VISIT OF PROFESSORS FROM THE TECHNICAL UNIVERSITY OF LODZ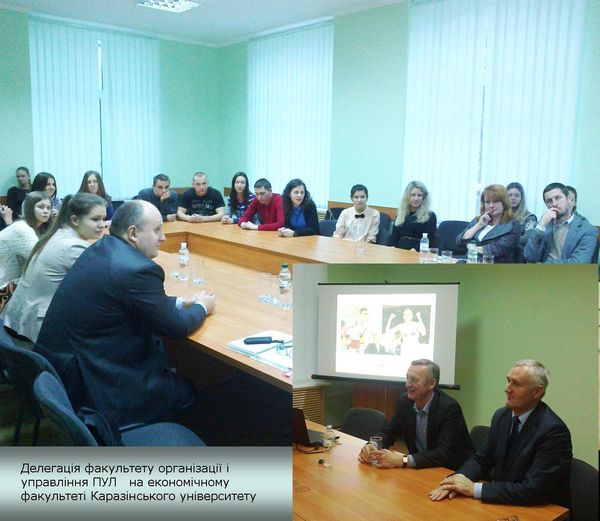 The delegation included prof. Ryszard Grondzky - Dean of the Organization and Management Department (O&M), his Deputy deans Anna Stankiewicz-Mruz and Maciej Bielecki, the Dean of Engineering Processes and Environmental Protection Department prof. Ireneusz Zbichinsky, Deputy Dean of the Mechanics department prof. Lukasz Kaczmarek, as well as two students from O&M department.
Representatives of Organization and Management department took part in the international conference «THE STATE AND PERSPECTIVES OF SOCIAL RESPONSIBILITY OF ECONOMIC AGENTS IN THE MODERN WORLD», which was held at the Economics department of Kharkov National University. There was also a meeting with the students - participants of the "double diplomas" Program (Bachelor degree) in "Management" and a meeting with the Dean of the Economics Department Alexander Davydov, supervisor of the Programme from the department Vladimir Rodchenko, representatives of the faculty and director of the Ukrainian-Polish Academic Center for Science and Culture Tatyana Bitkova. At the meeting the perspectives of signing the agreement about joint Master degree Programme in "Management" and the directions of scientific cooperation between the two departments were discussed.
The issues connected with the preparation for signing the "double diplomas" agreements were discussed by the representatives of two other departments of TUL with the leaders of Mechanics and Mathematics Department and the Ecological Department of V.N. Karazin Kharkiv National University. Professors Ireneusz Zbichinsky and Lukasz Kaczmarek have delivered lectures for the students of both faculties.
The delegation of TUL was received by Vice-Rectors Zarif Nazyrov and Nikolai Azarenkov.