VISIT OF THE POLISH SENATORS
During the visit there was a meeting the Rector of the University, member of NAS of Ukraine Will Bakirov. The latter has marked, that «in the history of the University there are many Polish motives and they are present in our days as well. In particular, the Ukrainian-Polish Centre for Science and Culture of our University in cooperation with the Consulate General of Poland are performing a large, interesting and very important work. I am extremely pleased, that Mr. Lukashyk, who's cadence has only recently begun, is visiting Karazin University already for the second time and expresses a great interest and respect to traditions of our cooperation". During the meeting Rector has informed the guests about the structure of the University, educational process organization, and University accomplishments and achievements, including its joining to Top 500 QS World University Rankings.
Head of the Ukrainian-Polish Center dr. Tatiana Bitkova has presented its work and perspective directions of cooperation between V.N. Karazin Kharkiv National University and Polish Universities and scientific institutions.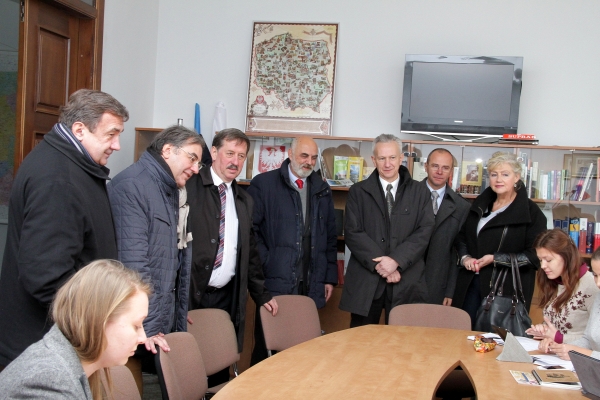 «The University administration, presented here by Mr. Bakirov, is our good friend. From the first months of the activity of the Consulate General in Kharkiv close cooperation between CG RP and Karazin University was established. All the Consuls General have made a great contribution to it, and I will develop this cooperation as well», - said Stanislav Lukashyk.
During the visit the deputies of RP Senate have visited the Museum of University History, Central Scientific Library, where there was the exhibition of antique Polish books, and Ukrainian-Polish Centre for Science and Culture.